Had "Founder Puzzles" been launched 10 years back, a lot of my poor black hair would have been saved from turning silver because of the 3 unsuccessful startups.
I still remember the day I met Jawwad Ahmed Farid as my mentor at The Nest IO! A huge shout out to Jehan Ara, for introducing us to such great mentors.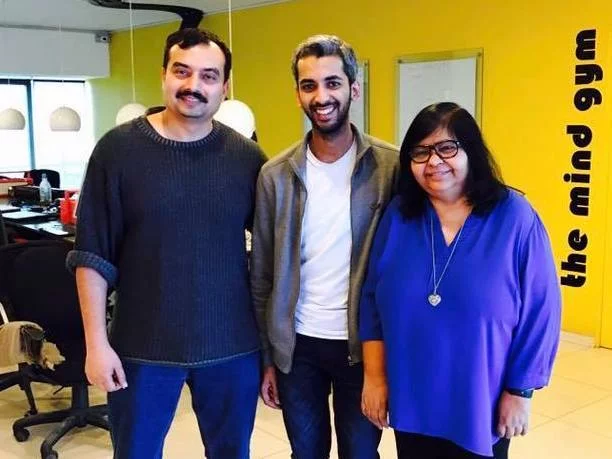 Jawwad Farid had a profound effect on me because of his time punctuality and weekly doses of reality checks. My co-founders, Shakir Ghani, and Zohaib Ahmed Shakir were always impressed with Jawwad Farid and how he roasted me most of the time to be better. 
It Was a Fun, Challenging, and Hard Learning Experience.
I've learned a lot from Jawaad Farid, from perfecting the art of pitching to customer satisfaction, it's been a great journey so far.
If I were to write my past experience with Jawwad Farid and the lessons I have learned directly from him, it'd take me multiple blogs to write. However, a few of the lessons that are worth mentioning are;
I remember how when we had morning classes he would be punctual to close the doors at exactly 9 am or give little punishments (like pushups, doing planks, and whatnot) to make his students honor punctuality.
I can not thank him enough for the countless mentoring sessions at "The Nest IO" and at his place, where he would give us time slots for the meeting. 
He introduced me to new people and a special mention of Charles Ill, who was introduced to me by Jawwad Farid at 021Disrupt Dinner, where he asked me to join Charles and try having crabs with him, and this introduction eventually led us to score an investment in 2019! 
He made this equation true for us: Success = Work + Luck
When he used Social Champ finally, he wrote me an apology letter, telling me how he couldn't use it early with his busy schedule, but now that he had used it, he sees how awesome the app was and why Guy Kawasaki was such a fan. It was a huge honor for me! He didn't only tell me that he loved it, but he also tagged Jehan Ara and suggested to her that I conduct sessions for the startups and help them with their social media! To quote him here;
"I signed on to Hootsuite 3 years ago and absolutely hated it. Social champ is just such a phenomenal piece of work that it deserves more recognition and more exposure. 
I now understand why Guy Kawasaki is so crazy about it. 
Thank you for building this, sharing this, and letting us have access to it." – Jawwad Farid
He was even kind enough to give us a proper review!
When it comes to pitching, I remember how in Taiwan, when we had a competition, he asked me to join him in a Limo on our way from the airport to the hotel, along with the founders of a couple more startups. And once the journey began, he asked me to pitch to the people in the car about "Social Champ". I was gobsmacked and told him that I had no slides, he still encouraged me to start as we all were mentored to learn the flow without the pitch deck. And as I started, going through the slides in my head, he kept perfecting me and made my pitch more personalized and empathic than it already was!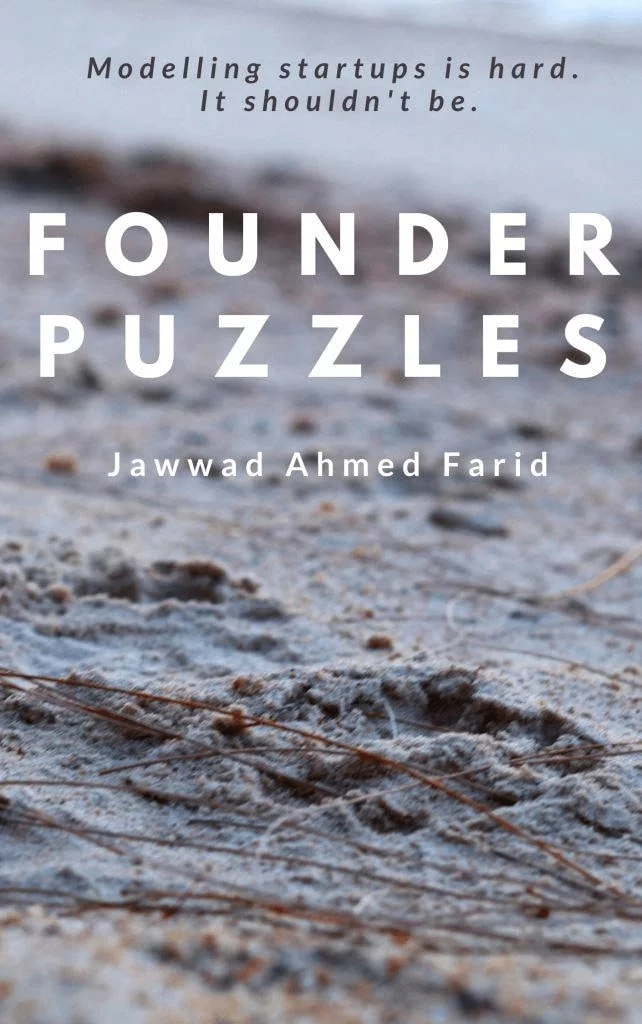 For Social Champ, being featured for the first time in the book of one of my mentors as a use case in Chapter 7 is an honor and a privilege that I can't thank him enough for!
I myself have learned a lot from this book, I can't write all but knowing the importance of "Sunk Costs", "Marginal Cost", "Fixed Cost", etc. 
The book is full of powerful golden nuggets to learn from.

Founders Puzzles is a process to take your dream from the ideation phase to a billion-dollar company. I hope you go beyond that too. The book clearly asks founders and startups to answer the very tough questions before starting their startup or writing their first line of code, for example: Why do they exist? What's their DNA? 
When I started reading it out, all I could think about was how easy, crisp, and relatable the writing was. It was as if Jawwad Ahmed Farid was talking to me directly, telling me the story of my journey in the world of startups in his words.
As I started going in deep, I understood how the problems I thought were complex and looked messy and thought no one else ever had, were faced by everyone when they started out fresh and were faced in the ecosystem.
Our current economic environment is beneficial for innovative startups, but there's no accord about the best strategies these companies should use to find and maintain growth. 
As Jawwad Farid says, "If the value is in building intuition and in being wrong, what should you focus on?

Being wrong.

The more wrong you are, the more wrong you have been, the more wrong models you have under your belt, the more valuable you are as a data scientist, as a modeler, as an ML and AI specialist. Because you understand what breaks the model and you can account for it." 
Some business owners and entrepreneurs randomly try out different solutions to see what will work, producing as many failures as successes. 
The strategies and procedures discussed in the book aren't created randomly, of course — they're the outcome of case studies of startups who have been trying, again and again, practicing multiple ideas over and over with various new options introduced to them. 
Founder Puzzles approach encourages companies that are both more capital efficient and that support human creativity more effectively. As he says;
"If you have high fixed costs and high marginal costs, your business is inherently broken and is likely to run into trouble in the next downturn." – Jawwad Farid, Founder Puzzles
Motivated by lessons from financing, it relies on "validated learning," active personal experimentation, and several counter-intuitive practices that reduce product development cycles, measure actual growth without resorting to vanity metrics to learn what consumers actually want. The book comes with Google worksheet templates so that startups can keep evolving their KPI sheets.  
So, my suggestion to everyone starting fresh, rather than repeating mistakes that most founders make, why not read Founder Puzzles that offers entrepreneurs – in companies of all sizes – to test their vision continuously and adapt and adjust before it's too late. 
Mr. Farid provides a scientific approach to creating and managing successful startups in an age when companies need to innovate more than ever. The book offers a systematic way for startup founders to get the information they need to make swift decisions and unpuzzle the problems that they face in today's changing and challenging world.